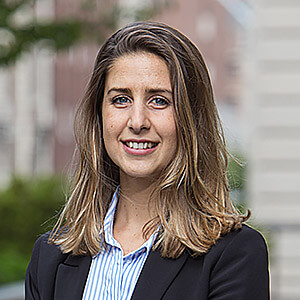 María Dinard is a lawyer specialized in Criminal Law, graduated with Honors from the University of Buenos Aires (UBA, 2012). She pursued graduate studies at the UBA (2013/2015), as well as in the Foundation of Salamanca University, Spain (2014). After that, she was awarded a scholarship by the Fulbright Commission and the Argentine Ministry of Education to pursue her graduate studies in the United States. She graduated with distinction as Master of Laws (LLM) from Columbia University in New York City (2018), where she was distinguished for her career in the field of human rights with the Human Rights Fellowship. 
She has extensive experience in the public sector and in the practice of law. During her undergraduate studies she worked as an employee at the Public Prosecutor's Office of Buenos Aires Province (2009-2012). As a lawyer, she represented victims of serious human rights violations at the Centro de Estudios Legales y Sociales (CELS) (2012-2017) and in private practice of law (2018). She is currently a consultant for UNICEF Argentina (2019) and coordinator of habeas corpus actions for the Procuración Penitenciaria de la Nación (2020).
She has participated as legal counsel in criminal and public interest litigation, as well as in the design, preparation and development of legal strategies and media advocacy, drafting of amicus curiae briefs and drafting of complaints and other documents presented to international human rights protection systems. She also has experience in articulating alliances with governmental and civil society sectors, coordinating work with civil society organizations, victims' and partisan organizations, planning and implementing advocacy actions before different state powers and international human rights protection bodies, and designing monitoring actions in prisons and police stations.
In the academic field, she participated in international courses on criminal litigation (INECIP, Mendoza, 2014) and strategic litigation of Human Rights (OSF, Budapest, 2015) and provided workshops to social organizations and judicial workers on litigation of institutional violence cases (Buenos Aires, 2015/2017).
She has also published several papers in specialized journals and law reviews. Since 2013 she is a teaching assistant of Elements of Criminal Law and Criminal Procedure at the University of Buenos Aires Law School in the Alagia – Gomez Alcorta Chair.